Client
DKW Communications, Inc. was formed for the sole purpose of providing the United States Government with a unique small business solution that can and will respond effectively to the full range of professional and technical requirements. DKW offers a unique Management Delivery Organization 100% dedicated to supporting requirements and providing a total solution that ensures interoperability and standards enforcement.
Requirements:
To redesign the DKW website to make it visually appealing
To design the site in a way that improves user navigation and site architecture
Solution: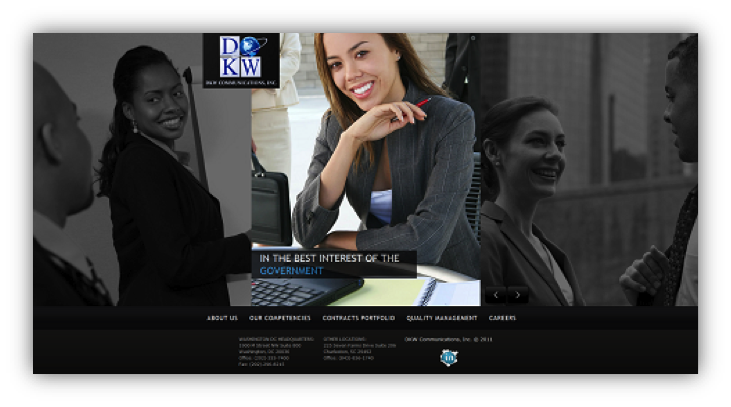 DKW Communications approached Meesha Media Group (MMG) with the above requirements in mind. The MMG team went through the existing DKW site and suggested some fundamental changes to the site's architecture to improve the user navigation.
Our team went through several website templates available online, and came up with the three most suitable options for DKW to choose. After discussions with DKW, a template was finalized and MMG then started working on installing the template and inputting the website content.
While entering the content in to the new template, the existing website of DKW was re-organized to make it user friendly and easier for visitors to search for important information.
An extensive Cascading Style Sheet change was required to make the all the sub pages of the new template consistent. The website was completed on time and without any errors.
Major Achievements:
We successfully delivered to DKW a modern looking, visually appealing, and easy to navigate website that helped drive more traffic to their site.