Client
The client, United Negro College Fund Special Programs Corporation (SP) – works diligently to create connections between the diverse, high-performing workforce of the minority education community and private industry to address the nation's imperatives. The goal of SP is to provide Minority Institutions (MIs) with capacity-building opportunities; the government and private industry with access to a talented and diverse workforce; and individuals with the experience, exposure, mentoring, and development they need to have successful and empowered careers.
Requirements:
SP wanted to add an eContact module to their Admin section to create a new email campaign to send to their users.
Solution: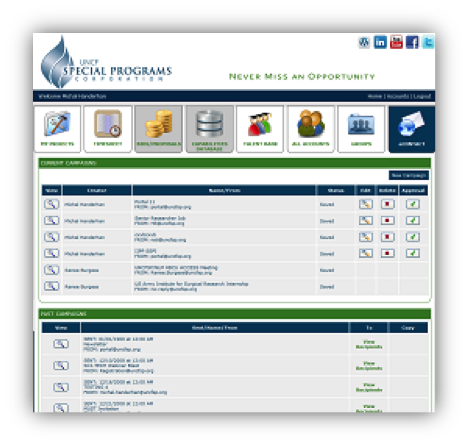 SP wanted MMG team to develop a system that would allow their staff to create a new email campaign and to generate a report based on the previous email campaigns and the email recipients.
MMG team developed an eContact module that gave SP staff the ability to create a new campaign; select the template for the email campaign; select the target audience for the email campaign, and also the ability to add outside users to the email campaign. To avoid any spam being sent from the module, an approval system was put in place by the MMG team. Once the campaign was created, an email would go to the Admin user to approve the campaign. Upon approval, the email blast would run successfully and an automated email was sent to the admin user and the staff that created the campaign. MMG also gave SP staff the ability to schedule the campaign for future dates. MMG provided SP staff with CK Editor to enter the text of the email campaign; the editor helped SP staff to create attractive texts without having any knowledge of HTML.
A complete report was generated about the campaign, including the template selected, the email recipients, the message sent, and the subject of the campaign, etc.
Major Achievements:
SP staff could send email campaigns successfully in a very short time
Because of previous campaigns available to view, at times sending a new campaign was a matter of a single click